American Express Business Edge Card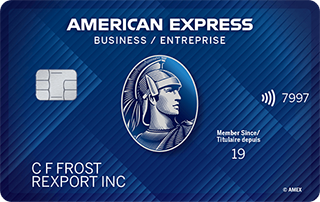 Annual Fee & Signup Bonus
$99 Annual Fee paid monthly
30,000 MR Select Points when you spend $5000 in the first 3 months
Up to 12,000 MR Select Points when you spend $3000 per month you will get 1,000 MR Select per month in the first 12 months
Earning rates + Bonuses
3x on food
3x on gas and local transit (including Uber)
3x on office supplies and electronics
1x on everything else
Up to a maximum of 75,000 MR Select Points, and then earn 1x the points on other purchases
Redemption Options
Statement Credits at 1000 points = $10 on travel a value of 1 CPP
Statement Credits at 1000 points = $7 on everything else a value of 0.7 CPP
Amazon.ca Credits at 1000 points = $7 a value of 0.7 CPP
Gift Cards at a value of roughly 0.8 CPP
AmexTravle.com 1000 points = $10 a value of 1 CPP
Marriott Bonvoy at 1 point = 1.2 points
Amex Fixed Point Travel with a value of between 1.5–1.75 CPP and 2 CPP on popular routes in Economy Class and a value of between 1.6–1.8 CPP in Business Class
Insurance
Car rental Insurance on cars with an MSRP up to $85,000 for up to 48 days
Purchase Protection Plan
Buyer's Assurance Protection Plan
Thoughts
This is a great card for small buisness owners, that earns I high number of points in many categories. The two biggest drawbacks to this card is the lack of trasfer partners exepet Marriott and the non-existent insurance.
There is one way to trasfer MR Select Points to air lines through Marriott. The way you would do this is buy trasfering points to Marriot Bonvoy at a rate of 1:1.2 and then from Marriott Bonvoy to any of there trasfer partners including Air Canada at a rate of 3:1. If you trasfer 60,000 Bonvoy points Marriott will give you 15k bounus Marriott Bonvoy points. So to calualte the trasfer form MR Select poitns to Aeroplan Points you would do
(MR Points)*1.2/3 = Aeroplan Points
For example the 30k sign up bouns would be: 30,000*12/3 = 12,000 Aeroplan Points.